What is the difference between extruder machine and pelleting machine in floating fish feed mill?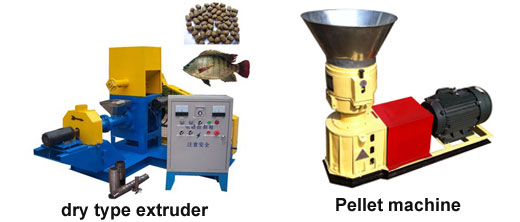 An extrusion machine is a device which pushes or pulls a material through a shaped die to form a continuous length of product with a preset cross section.
Pelletizing is the process of compressing or molding a material into the shape of a pellet. A wide range of different materials are pelletized including chemicals, iron ore, animal compound feed, and more.
Extrusion has several advantages over pelleting:
1. Buoyancy can be controlled, so floating and slow sinking feeds can be produced;
2. Extruded feed is usually capable of carrying higher fat levels than pelleted feed;
3. For many species extrusion increases carbohydrate availability;
4. Extruded pellets generally have greater physical integrity and produce less fines;
5. Wet materials such as fresh minced fish can be readily incorporated into extruded products.
The differences between extruder and pelleting machine in the floating feed pelleting:
1. Extruder does not need the steam boiler.
2. The feed pelelt made by pelleting machine is more smooth and with better quality.
3. The capacity of extruder is lower than pelleting machine.
SEND ENQUIRY
We receive enquiries in English, Español (Spanish), Русский язык (Russian), Français (French) and العربية (Arabic). Our professional team will reply to you within one business day. Please feel FREE to contact us!