Animal feed pellet production line
Animal feed pelletizer Machine is one of main parts of Animal feed pellet production line and is also adopted the most advanced technology of flat die pellet machine at home and abroad. And the poultry feed pellet machine has good wear-resisting property and long service life.
Performance Features of Animal feed pellet production line
1. Driven by electric motor makes it more convenient and environmentally friendly.
2. No need to add extra water to the powder feedstock before pelletizing.
3. To make feed pellets with different diameters, you just need to replace a pellet mill die.
4. High temperature and pressure during the pelletizing can kill all kinds of parasitic ovum and other pathogenic microorganisms, reducing digestive system disease of poultry.
5. Low consumption, competitive price, long service life.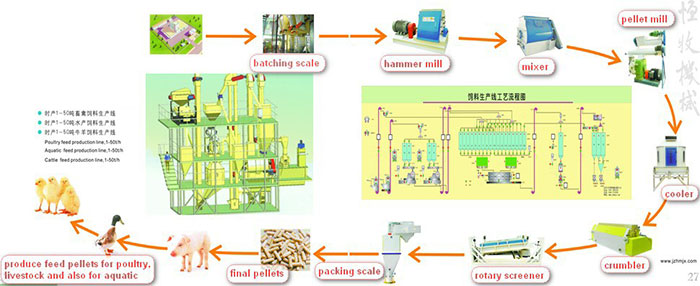 Application of animal feed pelletizer Machine
1.used in small, medium or large poultry farm
2.also can be used at home
3.This kind of feed pellet machine is mainly used to make animal feed like chicken food pellet,duck food pellet, fish feed pellet,sheep feed ,and so on.
4.raw materials can be alfalfa,grass meal,straw meal,corn meal,rice husk and so on
Features of Animal feed pellet production line
1.feed and grass meal can be directly made into pellet without adding any liquid materials.the feed goes in and out dryly. So it does not need to be dryed.
2.The pellet is highly strong and smooth.
3.The temperature is about 70℃ in process,so the protein freezes, the nutritional value increases and is easy to absorbed for animals

Working Principle of Feed Granulator
The first design of feed pellet machine to be used was the flat die pellet pellet machine for animal feed
machine, developed at the start of the 20th century to process animal feeds pellet. This design of feed pellet machine was based on a vertical design, where material fell onto a roller section sat on the surface of a horizontally mounted die. Material was then compressed through the die, and pellets fell from the bottom of the die.
Animal feed pellet production line adopted PLC control, So the manufacturing process will be controlled and monitored by our advanced computer controlling system. The control center is collected in accordance with the actual value and the current settings for contrast, which will ensure the stability of the whole processing in order to give full play to the pellet plant production capacity and to prevent plugging.
Animal feed pellet production line can produce feed pellets with rich nutrition, good palatability and high digestibility. We can offer the poultry feed pellet production line with 1-2t/h,2-3t/h,3-5t/h,6-8t/h,and 8-10t/h,or customize production capacity as per your requirement.
SEND ENQUIRY
We receive enquiries in English, Español (Spanish), Русский язык (Russian), Français (French) and العربية (Arabic). Our professional team will reply to you within one business day. Please feel FREE to contact us!